Frequently Asked Questions About Touring the College of Engineering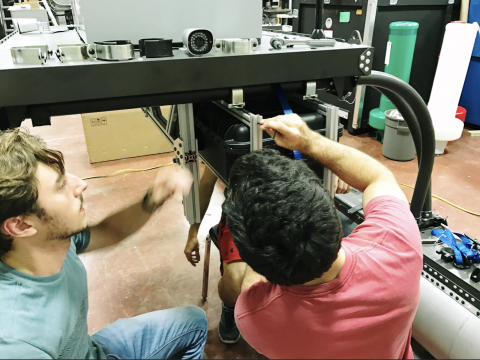 *Photo Credit: Dr. J. Vaugh
Interested in learning more about the different types of engineering degrees offered here at the UL Lafayette College of Engineering? The best way to do this is to take a tour. Our tours include a visit to the department of your choice, a description of all the things that make our College of Engineering special, and the opportunity to ask questions. For reservations, email corinne.dupuy@louisiana.edu and come see what we have to offer!
Who are the tours for?
Anyone may attend! Anyone who is interested in learning more about our College of Engineering and types of degrees offered, is welcome to schedule a tour. Past guests include high school students, parents, small groups and field trip groups.
What does a tour consist of?
A tour will start out with the Engineering Outreach Coordinator and will include descriptions of all six departments, job outlook, average starting salaries, potential career opportunities, academic information, awards and distinctions, scholarships, etc. Your tour will also include general tour of the College. An additional meeting with a department head will take place after the general College tour.
When do you offer tours?
Tours are held during University hours. The University is open M-Th from 7:30 AM to 5:00 PM and Friday from 7:30 AM to 12:30 PM. When emailing to request a tour, please enter two dates and times you are insterested in touring and we will try and accomodate your schedule.
What if I am unable to physically visit the campus?
No problem! When emailing your tour request please indicate if you would prefer a Virtual Zoom meeting. 
How long does the tour last?
Tours tend about an hour.
What will I see?
Interested in a small taste of what you will see when you visit? Take a look at a Sneak Peek here. 
How do I sign up for a tour?
Email corinne.dupuy@louisiana.edu with your request.
Special note about safety:
To adhere to Covid-19 regulations and keep visitors and employees safe, masks must be worn when inside the buildings.