Grand Champion - 2023 Fluid Power Vehicle Challenge
Fri, 05/05/2023 - 10:25am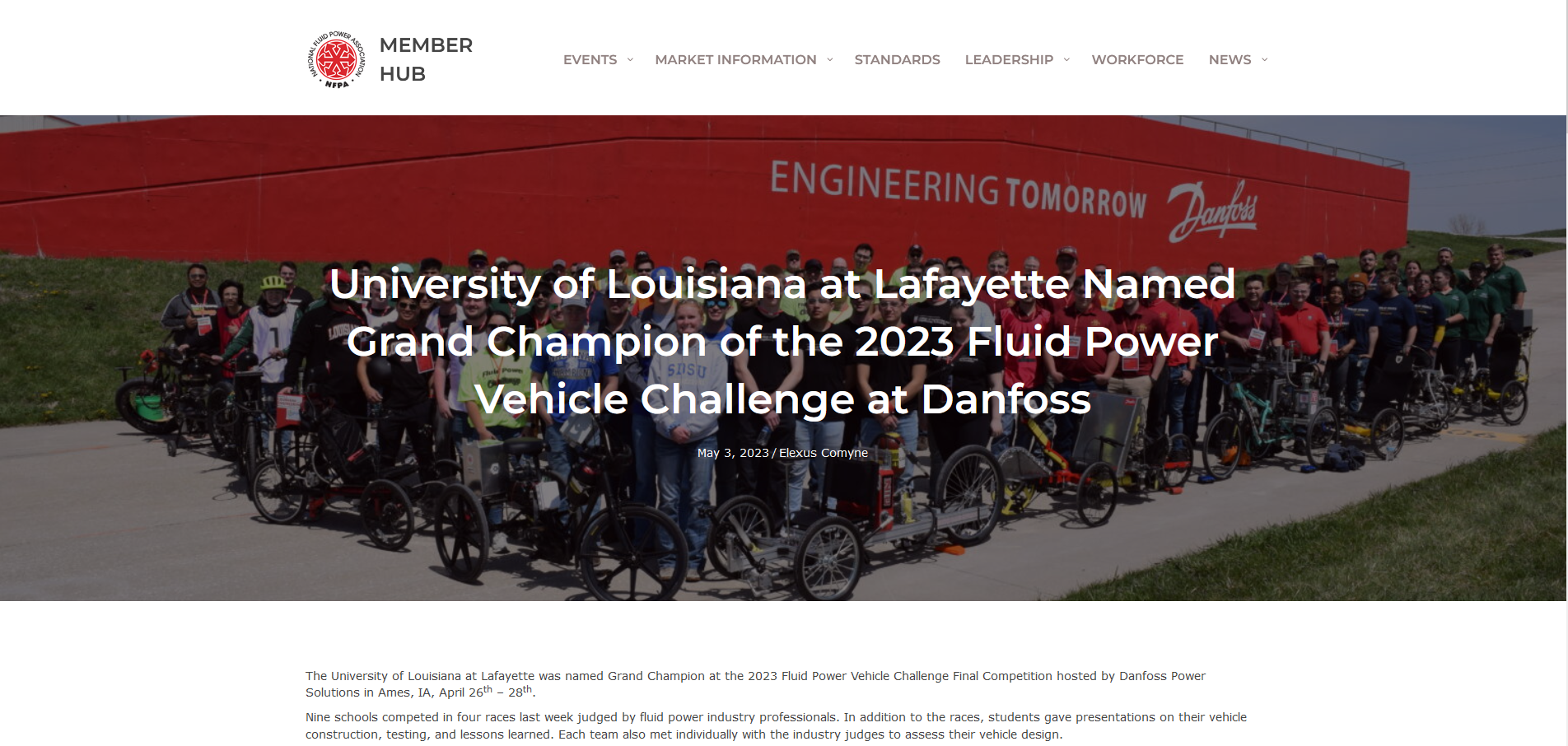 Our Mechanical Engineering (MCHE) Fluid Power Vehicle Team is the Grand Champion of the 2023 Fluid Power Vehicle Challenge hosted by Danfoss Power Solutions in Ames, IA.  Click here→ to see the website in all its glory.
"My warmest congratulations to Chase, Austin, Brett and Michael on their outstanding victory in the 2023 Fluid Power Vehicle Challenge. Their impressive performance and unwavering commitment to excellence have earned them the title of Grand Champions and we could not be more proud of their achievements," said Dean Ahmed Khattab.  "This remarkable accomplishment is a testament to their hard work, dedication, and exceptional talents. Their success serves as an inspiration to all of us in the College of Engineering and reaffirms our commitment to fostering innovation and excellence in our students. Congratulations once again to the MCHE Fluid Power Team on this well-deserved and historic win," continued Khattab.
In addition to being the Grand Champions, our team also received the following awards:
The Midway Presentation Award
The Final Presentation Award
1st Place Exemplary Performance: Endurance Race
1st Place Exemplary Performance: Spring Race
3rd Place Exemplary Performance: Regenerative Braking Race
Congratulations to the team! → Chase Jeansonne – Austin Sun Chee Fore – Brett Hildreth – Michael Tonore
Congratulations to the Faculty Advisors! → Yasmeen Qudsi and John Carroll
This competition brings together universities from across the nation, including Purdue University, Ohio University, Iowa State University, South Dakota State University, Cleveland State University, and Milwaukee School of Engineering. The goal of the competition is to promote fluid power and challenge students to learn the entire design process of hydraulic and pneumatic systems.
Here is what the team members had to say about the whole experience:
"Working with the National Fluid Power Association has been an incredibly enriching and transformative experience for me, both personally and professionally. The competition provided a platform to not only deepen my understanding of fluid power systems, but also to interact and engage with some of the brightest minds from industry. The collaborative environment fostered a sense of camaraderie and allowed for the exchange of ideas, as well as constructive criticism. In addition to technical growth, the social interactions during the competition introduced me to potential mentors and future collaborators. As a result of my participation in the NFPA Fluid Power Vehicle Challenge, I have become increasingly passionate about pursuing a career in the fluid power industry. I am confident that the technical knowledge and interpersonal skills I have acquired through this competition will serve me well as I work towards becoming a proficient and innovative engineer." - Michael Tonore
"Competing in the national fluid power association's nation fluid power vehicle challenge in Ames Iowa has been a fantastic experience for me. Not only was I able to get experience in designing, building, and testing fluid powered vehicle, giving me hands on experience in an engineering project, but I was also able to meet and network with professionals in the industry and learn about the industry as a whole. I'm grateful to have been able to participate in this competition, and I can't wait to see where these experiences and connections take me in my professional career." - Brett Hildreth
"Participating in the NFPA Fluid Powered Vehicle Challenge at Danfoss in Ames, Iowa was a great experience for me. The Danfoss facility and staff were incredibly welcoming and supportive throughout the event. I had the chance to connect with other students and industry professionals, which will undoubtedly prove valuable for my future aspirations. It was fascinating to see what the other teams had created and compare their approach to the competition to our own. Our team's hard work and dedication paid off when our vehicle performed successfully, which was an incredibly rewarding achievement. It was a great feeling to see our project come to life and perform well under the pressure of competition. I'm grateful for this experience and excited to see where my future takes me." - Austin Sun Chee Fore
"I am thrilled to share my exceptional experience at the NFPA Fluid Powered Vehicle Challenge hosted by Danfoss in Ames, Iowa. The event's warm hospitality and remarkable support from the Danfoss team made it an unforgettable occasion. Participating in this challenge allowed me to connect with leading professionals in the fluid power industry and fellow students, expanding my knowledge and fostering valuable connections for my future aspirations. The opportunity to learn from experts in the industry was invaluable, deepening my understanding of fluid power. Our team's hard work and dedication paid off with a successful performance by our vehicle, making the experience even more rewarding. Overall, I am deeply grateful for the chance to participate in this event and excited to explore new opportunities within the fluid powered industry." - Chase Jeansonne