Petroleum Engineering student team wins 2nd place in the Nation in the 2021 SPE Petrobowl competition
Wed, 04/07/2021 - 11:05am
The Petroleum Engineering Department's Petrobowl Club took 2nd place, in the nation, at the 2021 Society of Petroleum Engineers (SPE) Petrobowl North America Regional Qualifiers.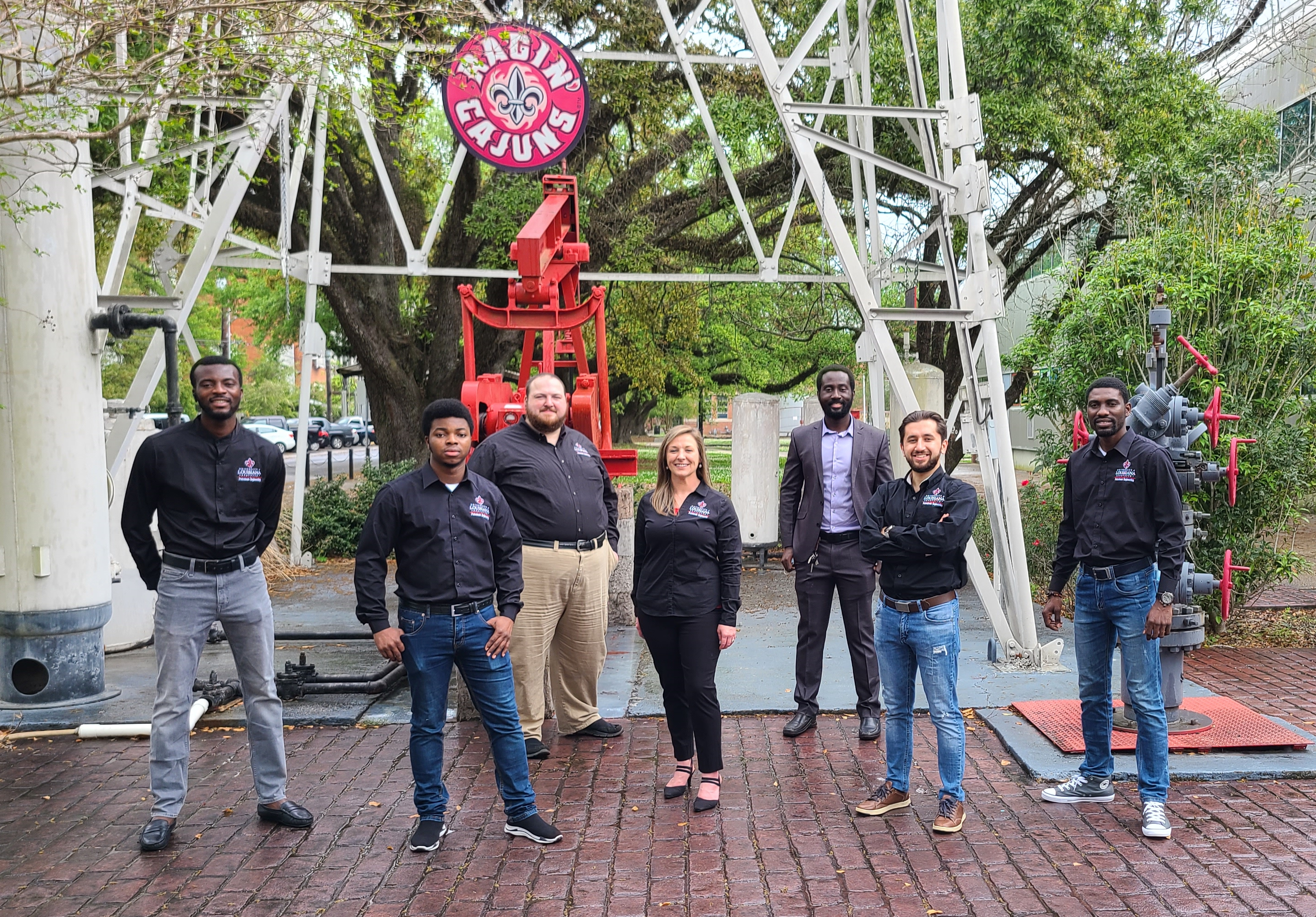 "What an awesome group of exceptional students.  The Petrobowl is very important to our students. It gives them the opportunity to meet a diverse group of students from all over the world," said Dr. Ahmed Khattab, Dean of the College of Engineering. "It also gives us the opportunity to showcase our talent and the product of an exceptional Petroleum Engineering curriculum.  Congratulations to Dr. Chinedum Ezeakacha, faculty advisor and club coach who worked tirelessly with the team to bring them to victory. We are so proud of our Petrobowl team," continued Khattab.
The SPE International Petrobowl is the most prestigious student competition for the society which dates back to 2002. The competition is a quiz-bowl style contest that tests the knowledge of students on petroleum engineering, general science and engineering, data analysis, machine learning, oil and gas history, and geo-energy politics. UL Lafayette students who take part in the competition are part of an elite group of students who are in the Petrobowl club, under the student SPE Chapter.
In 2014, the UL Lafayette's Petroleum Engineering emerged 5th place at the international championship held in Amsterdam, The Netherlands. In 2015, our team placed 4th at the international championship held in Houston Texas and in 2016, placed 2nd at the international championship held in Dubai, UAE.
This year, UL Lafayette participated in the North America Regional Qualifiers on March 27th and 28th 2021. Twenty (20) schools battled in four different pool plays on March 27th, 2021. Out of these schools, only 8 would advance to the knock-out stages the following day. From the knock-out stages, only 6 schools would advance to the international competition which would be held this fall in Dubai UAE.
The UL Lafayette team, with 4 students in a game and 1 substitute, played against University of Houston, University of Texas at Permian Basin, Montana Tech University, and Penn State University in pool play B. The team won three of their four games to advance to the knock-out stage.
The team played against LSU (2019 international champions) in the quarterfinals and won. The team played against University of Oklahoma (2020 international champions and 4-time international champions) in the semi-finals and won. After a long-fought match with University of Texas at Austin in the Finals, UL Lafayette placed second in the North America Regional Qualifiers and are going to Dubai in the fall to compete for the international championship.
Congratulations to the Petrobowl Team!! We are so very proud of you.  We are looking forward to the international championship, we know you will make us proud there too!
Pictured above are members of the UL Lafayette Petrobowl Club. From left to right they are:
Ebuka Osunwoke: First Year M.Sc. Student and Assistant Club Captain (2021 Team);
Prosper Nekekpemi: First Year M.Sc. Student (2021 Team);
Philip Wortman: PhD Student and Incoming Club Captain (2020, 2021 Teams);
Amanda G.Lange: Senior Student, Outgoing Club Captain (2020 Team);
Dr. Chinedum Ezeakacha (PhD; PSM): Faculty Advisor (2019 till date) and Club Coach (2015, 2016, 2020, 2021 Teams);
Asiman Saidzade: Second Year M.Sc. Student (2020, 2021 Teams)
Aderibigbe Adeyemo: First Year, M.Sc. Student (2021 Team)
Club members not pictured include:
Tyler Voisin: Junior Student
Nicholas Mascari: Junior Student
James Simoneanux: Senior Student (2020 Team)
Kacper Dworak: Junior Student