Mourning the Loss of One of Our Own
Thu, 01/28/2021 - 1:01pm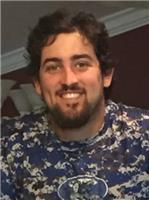 The College of Engineering is mourning the loss of Andre' Touchet who passed away on January 25th, 2021.  Andre' was a Senior in Industrial Technology.
Andre' graduated from Erath High in 2017 and became a Ragin' Cajun in the fall of that same year.  He had a love for sports and played football and baseball in high school.  Andre' was dearly loved by his family and many friends.
"I knew him very well he was very fun loving, faithful, extremely smart, witty, loved sports, loved Metallica and could put a smile on anybody's face. Truly one of the funniest guys I've ever met and I'm very very heartbroken about his passing." says Cole Delcambre, ITEC Student and Friend.
Andre was a strong student and showed great promise in the field of Engineering and Technology. He will be greatly missed.
Fly high Andre'....until we meet again!